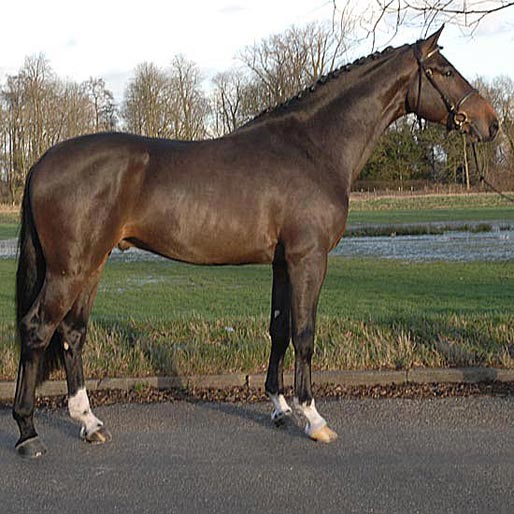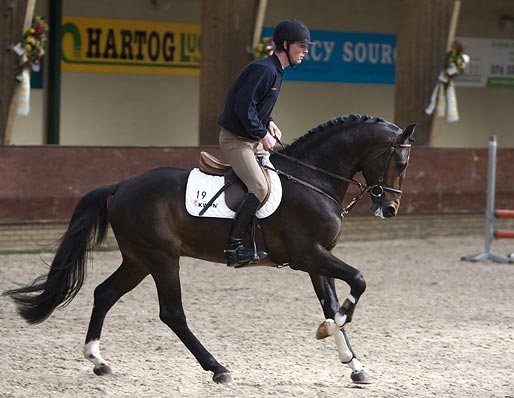 CANDOLA
Holstein, darkbrown 1.70 m, 2004
Breeder: A.W Dobber, Loenen a/d Vecht (NL)
Candola is licensed by the German sportshorse.
Sire of the 2008 licensed Candola is the world famous stallion Caruso.
Caruso displayed his fantastic qualities, for example in the German Championships for young horses in Warendorf, where he earned a splendid third place in the finals of the six-years-olds under Ulrich Kirchhoff in 2002. Caruso belongs to the most promising sporthorses of his generation. He has many placings in 1.50 and 1.60 classes and is kwalified for the Olympics in Quatar and Lummen. Caruso was at the Olympics as a teammember for Saudi Arabia. His full brother Chianti la Silla was first in the Grand Prix in Europe in Aachen, with Rolf
Goren Bengtsson.
Caruso descends from Caretino, already a legendary show jumping horse supplier in his lifetime, who was an international successful jumper under Ludger Beerbaum.
Caruso breeds foals with a sports model, a remarkable amount of movement and jumping abilities. The Dam of Candola is named: Nistria (Corisco x Capitol I) out of the line of Indoctro, ridden by Ulrich Kirchhoff.
Candola was appreciated at the stallion selection for his fine conformation, his presence and good movements. Especially his superb canter, in which the stallion showed extreme balance, had a very powerful jump and used his hind very well. In his 70 day's test in Munster Handorf, Candola showed his quality with a third place in class 1, with high notes for jumping and caracter. It has all the appearance that Candola will easily live up to the promise of his pedigree.
Caruso


Caretino



Geste


CaLetto II

Isidor

Capitol I

Susi


Cor de la Bryere
Deka
Metellus
Corbala
Capitano
Folia
Flamingo
Dunja

Nistria

Corisco



Faletta I

Contender

Desire

Capitol I

Vanessa VII

Calypso II
Gofine
Landgraf I
Randa
Capitano
Folia
Caletto II
Orgesch