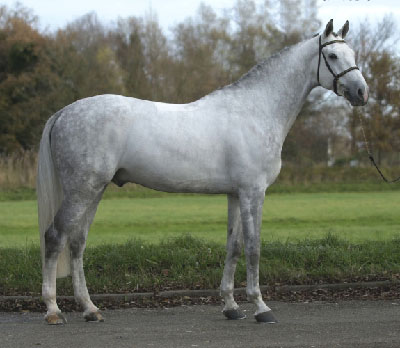 Carthago

Capitol I



Perra


Capitano

Folia

Calando I

Kerrin

Corporal
Retina
Maximus
Vase
Cor de la Bryere
Furgrund
Mambo
Tangelika

Zivia

Calypso II



Nachtbluete xx

Cor de la Bryere

Tabelle

Maestose xx

Gamale xx

Rantzau xx
Qeunotte
Heissporn
Hyazinthe
Sovereighn Path xx
Catchemenot xx
Felipe xx
Werra xx
CARAMBO
Holstein, grey, 1.70m, 1999, line 6691
Breeder Lauck Carsten (D)
The pedigree of the high interestingly bred Holstein stallion Carambo represents the best Holstein blood of the past decades. His sire Carthago caused sensation for many years, ridden by Jos Lansink. He jumped in two Olympics (Atlanta and Sydney) and in his successful career won the Grand Prix of: Frankfurt, La Baule, Rotterdam and Munich. Carthago was leader of the stallionlist with 182 points (1997). Today Carthago products mirror the success of their sire at the highest level in sport and breeding. The dam's line of Carambo goes back to Holstein lineage 6691, a family that has earned a good reputation, specifically in recent years.
Dam Zivia (breeder: DR Nissen) produced 5 international jumpers and 2 approved stallions.
1. Cim Christin 91 (Carthago) Casten Lauck/ 2. Candyman 92 (Carthago) Toni Hasmann/ 3. C. 93 (Corrado I) Zweden/ 4. Cim Cristo 94 (Carthago) 14th place Olymics in Athene 2004 (Cim Cristo is a full brother of Carambo)/ 5. Chevalie 95 (Carthago) USA/ 6. Carambo 99 (Carthago) approved: Holstein/ 7. Cassiano (v. Cassini I), approved and owned by the Holsteiner Federation.
Dam Zivia is a daughter of the much valued Calypso II, a stallion whose offspring is successful in both the show jumping arena and the dressage ring. Carambo himself is one of the best of his age group. He is enormously impressive over the fence, throwing an enormous jump and a fine technique. Carambo did his 30 day's test very well: 9,0 for jumping.
Carambo competed in the German Championships 2005 in Warendorf. He won his first shows in Vreden 2005 and Munster 2005. Carambo's offspring belongs to the best of the Holsteiner breeding. Many premium foals and state premium mares. Carambo belongs to the top stallions in Holstein: 141 pnts for free jumping in mare tests.