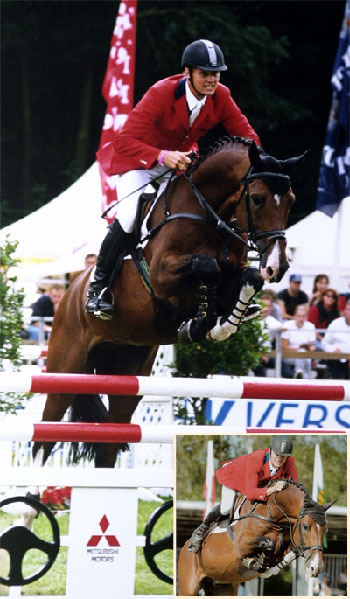 Caretino
Caletto II



Isidor

Cor de la Bryere

Deka

Metellus

Corbala
Rantzau xx
Quenotte
Consul
ökonomie
Marinus
Nachtblüte
Aldato
Unna
Geste
Capitol I



Susi

Capitano

Folia

Flamingo

Dunja

Corporal
Retina
Maximus
Vase
Fasolt
Navarra
Marlon xx
Sennerin
CARUSO
Holstein, appr: Zangersheide, bay, 1.70m, 1996, line 1571
Breeder R. Rühmann, Quickborn (D)
Studbook Zangersheide licensed the highly promising Holstein stallion Caruso for breeding in the beginning of 2002.
Caruso displayed his fantastic qualities in the 2002 German Championships for young horses in Warendorf where he earned a splendid third place in the finals of the six-years-olds under Ulrich Kirchhoff.
Caruso is one of the most promising sporthorses of his generation. He has manu placings in 1.50 and 1.60 classes and is qualified for the Olympics in Hong Kong. He was qualified in Qatar and Lummen. Caruso was at the Olympics a teammember for Saoedi Arabia.
Caruso descends from Caretino a legendary show jumping horse supplier in his lifetime, who was a successful international jumper under Ludger Beerbaum.
Caretino is easily the most successful son of his early deceased sire Caletto II (Cor de la Bryere). This is confirmed by a number of products at Grand Prix level such as Chandra (S. v. Rönne), Caridor Z (J. Lansink) and Crocodile Dandy (A. Firestone).
The sire of Caretino is Caletto II, another world famous stallion (the Sire of Classic Touch, Gold medal winner, at the Olympics in Barcelona).
The dam of Caruso is called Geste (mare-test, free jumping: 10). Her sire is Capitol I (Capitano x Folia), one of the best producers of showjumpers in the world. Caretino is combined here with the blood of Capitol I, another world famous progenitor from Holstein breeding, who is also the sire of the stallions Carthago, Indoctro I + II, Cento,Capriol, Cassini I. Caruso's dam's line goes back via the stallions Flamingo and Marlon xx to the famous Holstein lineage 1571 (Fantus-line).