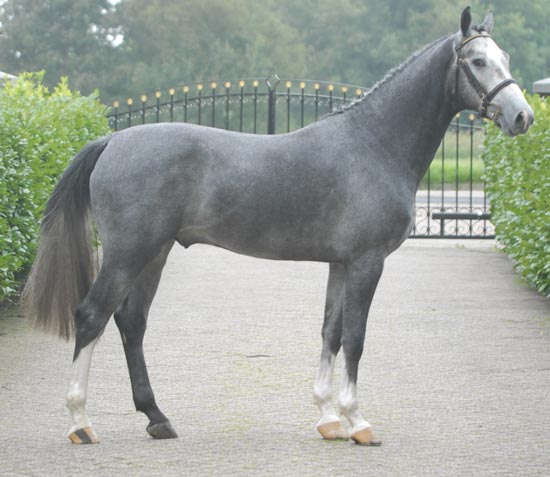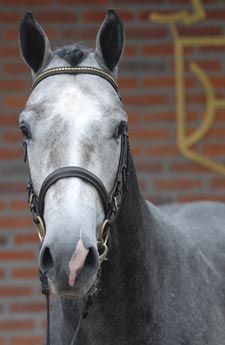 CASCARINO
Holstein, grey 1.66 m, 2006
Breeder: A.W Dobber, Loenen a/d Vecht (NL)
The pedigree of the high interestingly bred Holstein stallion Cascarino represents the best Holstein blood of the past decades. His sire Carambo was appreciated at the stallion selection for his good conformation and jumping. Carambo did his 30 day's test very well: 9,0 for jumping.
Carambo competed in the German Championships 2005 in Warendorf. He won his first shows in Vreden 2005 and Munster 2005. Carambo's offspring belongs to the best of the Holsteiner breeding. Many premium foals and state premium mares.
Carambo belongs to the top stallions in Holstein: 141 pnts for free jumping in mare tests.
His sire Carthago caused sensation for many years, ridden by Jos Lansink. He jumped in two Olympics (Atlanta and Sydney).
The dam's line of Carambo goes back to Holstein lineage 6691, a family that has earned a good reputation, specifically in recent years. Dam Zivia (breeder: DR Nissen)
produced 5 international jumpers and 3 approved stallions.
1. Cim Christin 91 (Carthago) Casten Lauck/ 2. Candyman 92 (Carthago) Toni Hasmann/ 3. C. 93 (Corrado I) Zweden/ 4. Cim Cristo 94 (Carthago) 14th place Olymics in Athene 2004 (Cim Cristo is a full brother of Carambo)/ 5. Chevalie 95 (Carthago) USA/ 6. Carambo 99 (Carthago) approved: Holstein/ 7. Cassiano (v. Cassini I), approved and owner: Holsteiner Federation. The Dam of Cascarino is named Nanook (Caretino x Romantiker x Herbstglanz x Sahib) out of the line of Carino. Nanook is a full sister of the mother of Carino (Domina VII) and Cheenook.
Caretino, already a legendary show jumping horse supplier in his lifetime, who was an international successful jumper under Ludger Beerbaum. Cascarino will do his 70 day's test in Munster 2009. It has all the appearance that Cascarino will easily live up to the promise of his pedigree.
Carambo


Carthago



Zivia


Capitol I

Perra

Calypso II

Nachtbluete


Capitano
Folia
Calando I
Kerrin
Cor de la Bryere
Tabelle
Maestrose
Gamale

Nanook

Caretino



Trika

Caletto II

Isidor

Romantiker

Heurige

Cor de la Bryere
Deka
Metellus
Corbala
Ramiro
Dedy
Herbstglanz
Zukunft