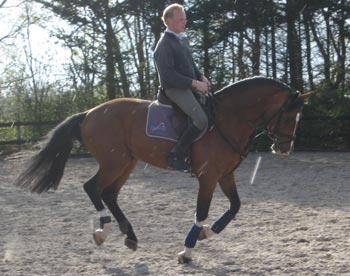 COMET
Holstein, appr: Deutsches Sportpferd, bay, 1.70m, 2003, line 6582
Breeder Thomsen, Epenwoehrden (D)
Comet is lisenced by the German Sportshorse.
This remarkable brown stallion is a real eyecatcher. He is an excellent mover and a very talented showjumper. Comet did his 30 days test in Redefin and is M kwalified with Ulrich Kirchhoff.
This horse will be prepared for the German Championships 2009 by our rider Ulrich Kirchhoff. Comet descends from Caretino, already a legendary show jumping horse supplier in his lifetime, who was an international successful jumper under Ludger Beerbaum. Caretino is easily the most successful son of his early deceased sire Caletto II (Cor de la Bryère). This is confirmed by a number of products at Grand Prix level such as Chandra (S. v. Rönne), Caridor Z (J. Lansink) and Crocodile Dandy (A. Firestone).
The sire of Caretino is Caletto II, another worldfamous stallion (the Sire of Classic Touch, Gold medal winner, at the Olympics in Barcelona).
The dam of Comet is called Neike. xx to the famous Holstein lineage 6582 (Calypso-line). It has all the appearance that Comet will easily live up to the promise of his pedigree.
Caretino
Caletto II



Isidor

Cor de la Bryere

Deka

Metellus

Corbala
Rantzau xx
Quenotte
Consul
ökonomie
Marinus
Nachtblüte
Aldato
Unna
Neike
Excurs



Darling II

Exorbitant

Dublin XX

Landgraf I

Utella

Final Straw XX
Fee XX
Caletto I
Tina
Ladykiller XX
Warthburg
Farnese
Adana